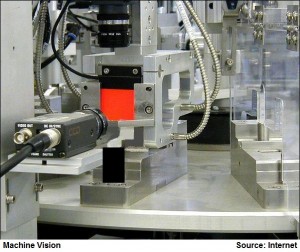 Machine vision utilises high-quality imaging methods and has a broad scope of applications for manufacturers:
Defect elimination – vision is used to detect and eliminate production defects before further processing is applied. This ensures high product quality and reduces production costs.
Assembly verification – Machine vision is a very accurate measurement tool. It determines object dimensions precisely to the millimetre, again reducing the number of defect or wasted products.
Process Automation – guiding industrial robots becomes easier with vision technologies. "Teaching" a robot to perform a particular task is a time-consuming job. Vision allows for real-time adjustments of a robot's position, making the production process more efficient.
Tracking and identification of parts – Efficiency improvements depend on the ability to track parts and products. Tracking is also becoming part of legislation rules such as the FDA validation of processes.
Scope of supply:
Initial survey to determine environment for installation and to obtain samples.
Specification document – clarification of pass/fail criteria.
Technical evaluation to determine if the project is feasible.
Design of the vision system, using the correct hardware/software/lighting etc.
Installation and commissioning – a turnkey approach
Service and support – ongoing.
Previous projects:
Our engineers have experience in a wide range of industries and applications, these include:
Food and beverage – bottle fill level, packaging verification, promotional labelling, OCR/OCV of best before dates
Automotive – assembly verification, defect detection, OCR/OCV of part numbers
Paper and printing – web inspection
Manufacturing – assembly verification, packaging verification
Pharmaceutical – product reconciliation, OCR/OCV of label information