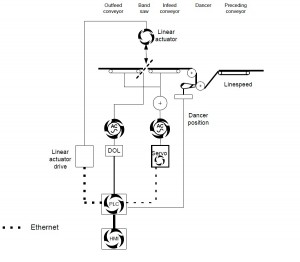 Cut-to-length or sheeting machines have a wide application in a number of industries including paper making, packaging, plastic films, metals and rubber. One cut-to-length system upgrade done by Optima featured replacing:
Conveyor drive
Conveyor gear-motor
Band-saw linear actuator drive
Band-saw linear actuator
Band-saw motor
PLCs
Click here to read the full description
Product is fed off the last conveyor of the production line through the dancer and onto the cut-to-length infeed conveyor. When running the conveyors operate at a set line speed trimmed by feedback from the dancer. The cut-to length system operates in manual or automatic modes. In manual mode it cuts the product by stopping the conveyors, driving the band-saw down and then up and then restarting the conveyors. In automatic mode the conveyors are driven at linespeed trimmed by feedback from the dancer for an operator settable distance. The conveyors stop at the set distance and the band-saw is driven down to cut the product, the band-saw is then driven up and the conveyors restarted repeating this operation.
To change the band-saw blade requires a foot-pedal inside the guards to be held down to energise the hydraulic pack and then a pushbutton to be pressed which releases tension on the blade. Once the blade tension is released the foot-pedal is released turning off the hydraulic pack preventing further motion, then the blade tension release button is released. The blade can then be replaced. To re-tension the hydraulic pack the footswitch is pressed again until sufficient tension is on the blade.
Optima's control system solution:
The band-saw was previously driven by a hydraulic motor, a fixed speed AC electric motor was supplied to replace this. The band-saw was tensioned using a hydraulic system, this was retained. The existing dancer was of a counter-balanced design with preset pneumatic dampers, it was retained. The infeed and outfeed conveyors were mechanically linked together and driven by a single motor. A servo motor was supplied to replace this. The length of the product was measured using a new encoder which was supplied for fitting in the place of the existing encoder on the infeed conveyor.
The operator was to control the cut-to length process using a HMI mounted on the operator panel.
Would you like to know more about other control system projects we have completed on cut-to-length machines? Please, leave us a short message here and we will send you additional information within 24 hours!

Download PDF Version