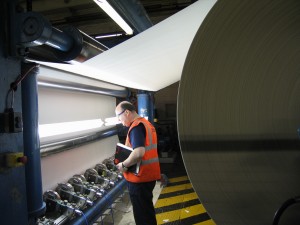 Web tension is a critical element of numerous manufacturing processes. No matter how demanding a production process is, either the material or the running parameters, our control systems ensure that the correct web tension is reliably maintained. At Optima, we have designed, built and applied high quality variable speed drive control systems to an impressive range of web tension applications.
Our clients enjoy better control, increased reliability, improved performance and uplifted productivity; because not only are we expert electrical engineers, at Optima we have a comprehensive understanding of the control system as a whole. We appreciate that every closed loop system includes mechanical components, transducers, the materials being processed and many product-conditioning elements. Our vast experience designing systems that accommodate and control all these variables ensures the systems we produce perform well in every application.
Scope of Supply:
A comprehensive survey of the existing machine control strategy using our in-depth knowledge of web applications to identify areas requiring improvement or factors that are limiting machine performance
We develop a full machine specification: Here we define how the new control system is to operate and how any existing limitations will be overcome. We believe that involvement at all levels from management to operators is paramount to the success of the upgrade.
We design a fully integrated drive control system Our system will fully satisfy all of agreed specification criteria and, more importantly, your operational requirements.
We design and schedule the upgrade to fit with your machine availability. Prime project management of this can be provided on request.
We install all of the control elements using our personnel and selected, approved subcontractors. Machine downtime is a significant factor in any project. The skill of the installation team and quality of their work is critical.
We fully commission the new automation equipment and provide baseline post-commissioning performance data for the machine. The best machine ownership experience follows best design practise and high-quality commissioning. These are core deliverables with every Optima system.
Partners:

Siemens

Rockwell

Parker SSD

Pilz

TTS

ABB

Previous Projects:

Coating line control system replacement

Upgrade of obsolete control system with over 100 integrated drives. Additionally, MPS compliant safety system was installed.

Slitting machine control system upgrade

Replacement of existing control system using Parker SSD DC drive controllers, Siemens S7-300 PLC, ultrasonic sensors, E-P converters.

Paper machine drives upgrade

New control system design and installed in a staged manner to minimise downtime. Conversion of original drives (multi-panel) to standard form units. Installation and commissioning.

Coating line control system replacement

Design and supply of variable speed drive control system for web transport and in-line coating processes.

Rewinder control system upgrade

Replacement of existing torque controlled DC drives and P.M. motors with equivalent AC vector drives and motors including load cell tension control in closed-loop format.
Learn how better tension control will improve your production processes in our free whitepaper here.