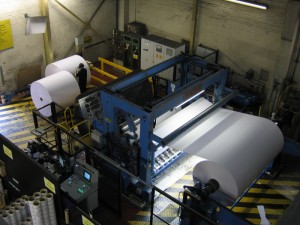 At present, the paper industry is living in tough times. The recent economic downturn and ever-increasing costs make it hard for paper manufacturers to retain their profitability despite predicted market growth. Statistics show that the industry expects 25% expansion by the end of 2015. In order to meet this demand, paper makers will need to optimize their supply chains becoming leaner and smarter. Optima Control Solutions Ltd. provides answers to both challenges – cutting costs and improving efficiency.
Optima makes a significant engineering contribution to the paper making industry, the one sector forming over a third of the company's business. This involvement stems from our deep understanding of paper making machines and the control systems that automate them. Our engineering team has successfully completed more than 120 full-scale projects for papermaking and converting companies.
Now in our seventeenth year, Optima have developed a strong portfolio of retrofit and upgrade projects. Successfully modernising a wide range of complex machinery manufactured by prominent OEM companies including:
Jagenberg
Pasaban
Wickeltechnick
Beloit Walmsley
Bone Markem
Valmet
We have completed a great number of control system upgrades on sheeting lines, slitters, winders/rewinders, embossing machines, coating lines and laminators.
At Optima we supply our engineering services to both end users and to specialist machine builders; a recognition of our specialist expertise in the sector.
Scope of Supply:
Having amassed valuable experience in the paper industry, we deliver excellent results through a fully integrated scope of services. On each project we undertake, we provide the following comprehensive project engineering components:
Detailed Site survey – To provide the level of competence and expertise required in complex retrofit projects it is essential that we understand every detail of the machine, its process and its control system. Whether the job is a simple upgrade of obsolete PLC hardware or a full-scale drive control system refurbishment, success is achieved by making the machine work faster and better and more reliably. This requires a fundamental appreciation of its working mechanisms.
Panel layout and panel build – High quality panel build is vitally important to any project if an efficient system installation and commissioning is to be carried out. It is also a significant element for a trouble free ownership and maintenance experience. Our panel build department is passionate about high build standards, continuously raising the quality bar.
Engineering of Drives/PLC/Programmable product software – Engineering a control system involves writing succinct, well structured and commented functional software. For drives, PLCs and SCADA, implementing complex control algorithms for machine control systems with clarity and accuracy is a pre-requisite if production efficiency improvements are to be gained.
Installation – We recognize that electrical installation is a critical part of any system upgrade project. Often the most visible part of a project we regard it as the signature applying both technical and aesthetic rigour. We offer a wide range of installation services, from complete control system panel suites and cabling through to individual drives and PLCs.
Commissioning – Turnkey project engineering involves complete responsibility. Successful projects have the least impact on productivity, so minimising the impact of machine downtime for any upgrade project is central to Optima's planning process. Our engineers have the experience and expertise to deliver the best control solution, from start to finish and a well commissioned machine will provide the highest production efficiency, the best product quality and the most reliable machine. Critically, our engineers operate to ensure that site and machine safety always meet or exceed the requisite legal standards.
Previous Projects:
Tullis Russell
Coating line control system replacement
Upgrade of obsolete control system using Siemens S7 PLCs and Parker SSD AC motors and drives. Installation of MPS compliant safety system. Project value: £372,000
Sheeter control system upgrade
Supply of servo system to select the appropriate cutter gearbox ration. Modifications of the existing S7 PLC and HMI software to interface to the new equipment.
Slitting machine control system upgrade
Replacement of existing control system using Parker SSD DC drive controllers, Siemens S7-300 PLC, ultrasonic sensors, E-P converters. The project includes new control panel build.
Rewinder control system upgrade
Replacement of existing controllers and adding Siemens S7 PLC, HMI displays, PILZ PNOZ Multi safety PLC and emergency stop circuits.
Dandy roll upgrade
Upgrade of Parker SSD inverters and PLC hardware. Expansion of the PROFIBUS network.
Voith Paper
Felt production line control system
Design of PLC, Scada and Servo drives software. Modifications of safety system.
Belt machine control system design
The main control disciplines for this project include:
· Drive system engineering
· PLC system engineering
· SCADA system engineering
· Safety Engineering
Three roll assembly control system design
Design and supply of PLC and safety equipment/software. Build of main control panel and operator control desk.
SCA Hygiene
Conveyor control system software upgrade
Scope of supply includes site survey, PLC and Drive software write-up and training. Siemens control equipment is used.
J R Crompton
Paper machine drives upgrade
New control system design using Parker SSD and Siemens components. Conversion of original drives to standard format. Installation and commissioning .