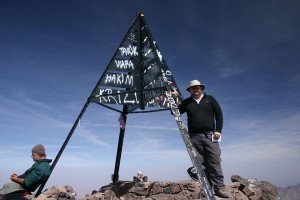 Optima's engineers Mark Lane and Colin Keating climb the rocky Mount Toubkal of the Atlas Mountains in Africa. In search of adventures they also support a good cause – raising money for Colin's sick nephew, Shane.
Optima Control Solutions Ltd is an independent company and industry leading specialist in variable speed drive, PLC and SCADA applications, serving multi-sector manufacturing industries since 1995. This September one 'project' completed by Optima became something to talk about in the Lancashire area. Two Optima engineers completed the climb of their lives after conquering the rocky Atlas Mountains situated in Morocco, Africa.
Mark Lane and Colin Keating, colleagues and good friends, started preparing for the epic journey in early August. As the route was planned, flight tickets booked and fly kill spray forgotten, the two left Optima's comfortable office for two weeks in search of adventures.
Around that time, Colin heard the devastating news of his nephew having a very bad disease – muscular dystrophy. The climb to Mount Toubkal then turned into a mission to support the little boy and raise money to help fighting the illness. Colin talked to a local newspaper about the problem: "Shane is OK at the moment. He is a really happy little boy but gets tired easily and from the age of about six onwards his muscles will start deteriorate. By raising some money it will hopefully help pay for some of the equipment and modifications for the house that will be needed."
Colin and Mark were more than happy to share some journey pictures with us. To support their efforts, please, visit www.justgiving.com/colinpkeating and help one kid feel better!
For more pictures visit Optima's Facebook page.