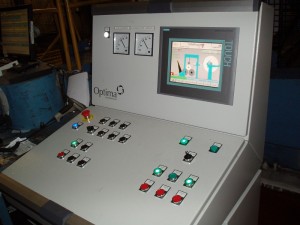 Companies operate machines to make money, not stress. We engineer our control systems so that the people that run and maintain the machines can do so efficiently and profitably.
We design our control systems with machine ownership in mind and writing good, well structured and commented software is integral to those objectives. Our engineers think beyond the design and commissioning stage and consider the long and critical period of machine ownership. So our clients can optimise their machine productivity, availability and profitability.
Isn't that why companies run machines?
A vitally important part of the systems that we engineer is the functional software – the software that resides in SCADA systems, PLC's and intelligent drives. Well constructed and commented software is a given, however, the sequential PLC code that we write is done using state transition techniques. This system allows us to express the functionality of a machine independently using graphical methods then to implement that functionality using traditional ladder tools. The upshot is an efficient, easy to follow structured software product. This has three significant benefits:
The machine functionality can be confirmed before software is written
Thorough testing of the software is possible prior to shipment
Ownership of the system is made much easier due to the ease of fault diagnosis should the system suffer a field component failure.
Need more information? Browse various projects here. Our industry-specific pages also provide details about the control system projects we have completed over the years.