Because of their superior functionality, comprehensive performance range and application flexibility, the Siemens Simovert MASTERDRIVES in CUVC, CUMC, Compact form and other variants has been a very successful drive system for single motor and multi-motor applications. The established common DC bus system enabled it to be used on demanding production machine processes across a wide range of industry sectors.
All good things must come to an end, but that doesn't mean the end of the line for your production machine.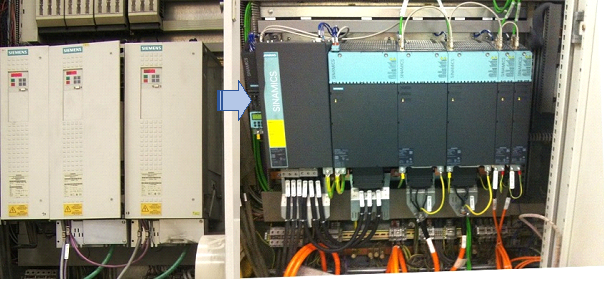 Optima's innovative approach to upgrades significantly reduces the installation time and minimises risk to your site. All of our systems are thoroughly tested before they are shipped to site, completely eliminating any "out of box" failures.
Some of the benefits you will realise are:
Extended life span of your machine and increased availability due to continued spare parts supply with full support by Siemens
Improved productivity through lower energy costs and faster production cycles, through:

Simple operation monitoring using operator panel
User-friendly diagnostics with the STARTER tool
Additional interface options via PROFINET or PROFIBUS

Future-proofed due to access to the new world of TIA Portal
Optima's approach for upgrades is to:
1.Analysis of your current machine configuration and potential further customer request
Recommendation on the best replacement scenario
Installation, configuration and commissioning of new  components and creation of circuit diagram and documentation
Acceptance test and machine handover.
If requested, we can also provide training for all your relevant engineers and instruction of the operating personnel
Why Optima?
We've been upgrading complex drive systems for over 20 years
We are one of only 7 authorised Siemens Drives and Motion partners in the UK
We provide a complete solution provided by one retrofit supplier including mechanical installation of motors and/or supply of adaptor plates and flanges to suit