This innovative manufacturer of ground reinforcing fabrics was founded in the1980s and ever since its name has become synonymous with high quality mechanical ground stabilisation and soil reinforcement products. The company is a world leader thanks to its innovative solutions and technology-driven vision. This company invented and patented the first polymer geogrids – their Biaxal geogrids are widely used around the globe. Optima Control Solutions, an independent automation expert, was approached by them and charged with the task of completely upgrading one of their production line control systems.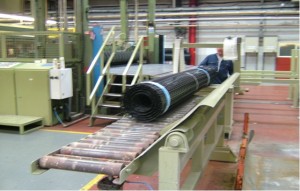 The problem:
After years in production, the specialist line located at their plant in Blackburn became progressively obsolete and inefficient. It required not only a complete mechanical upgrade but also a total control system upgrade and a complete machine rewire. They needed an expert control system company flexible enough to complete the whole upgrade in a very tight time window – a total of 4 weeks. Moreover, the customer needed work to be carried out during an extended shutdown period at Christmas. Optima Control Solutions, headquartered just a few miles away from the plant, accepted the challenge and teamed up with the companies mechanical engineers to complete the task competently, on time and within budget.
The solution:
Optima designed the new control system in accordance with the customers process requirements. Optima's solution included some smart design features that gave greater machine reliability characteristics. PLC remote I/O units were fitted in the control cubicles, control desks and junction boxes located on the machine. The majority of the existing control cables could be removed which gave improved reliability and would simplify future maintenance on the machine. A redundant Siemens WinCC SCADA package was installed for controlling the machine and allowed production data to be easily collected and analysed. Optima's team utilised Siemens Scada both on the input and output control desks. This control design allowed the machine to be controlled by either SCADA if one of them failed.
The benefits:
Joe Crane, plant engineering manager at the company in Blackburn, had nothing but praises for the job Optima had completed. "First of all, I am very pleased that they agreed to work over the Christmas period – it would have been impossible to complete the project at different times as we had to change the mechanics in parallel with the control system." He stated that Optima's upgrade contributed to an improved line efficiency of at least 20%. "We now have better control and accuracy in production – speed and tension loops are great. Also, Optima managed to raise the machine safety levels to a higher standard." Regarding the data colleciion package employed into the upgraded Biax line, Mr. Crane said it was a great diagnostic and data management tool that made predictive maintenance part of the plant's production strategy. "At present, we make decisions quicker and establish changes faster. We are now able to make informed decisions and optimize production based on data we have confidence in."