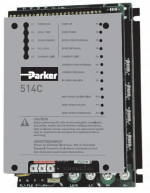 The range of 514C Series regenerative converters, with single phase AC supply,
offers full four-quadrant control of wound field or permanent magnet DC motors.
It is ideal for applications requiring accurate braking of high-inertia loads or their
fast and precise deceleration. 514C Series and its non-regenerative version 512C
have been designed to offer the ideal solution for speed control of single and multimotor applications.
Features of the 514C drives are as follows:
Jumper-selectable single phase input voltage 110//120 or 220//240 or 380/415V ±10%
Linear current feedback allowing accurate torque
Zero speed or zero set point relay driver output – 24Vdc
Total setpoint output
Stall detection and trip
Field bridge suitable for UK or continental voltages
Overload capacity 150% of nominal current for 60s
Adjustable maximum current level
Adjustable maximum and minimum speed
Adjustable I.R. compensation (for armature voltage feedback speed control)
Adjustable speed stability
Independent control of speed ramp, both up and down from 0-40s
Indication of mains supply on, stall trip and overcurrent trip
Switch selectable current calibration
Switch selectable Armature/Tacho generator feedback
Buffered 0-10V output for a speed reference or meter
Buffered 0-7.5V output for a current meter (7.5V = 150%)