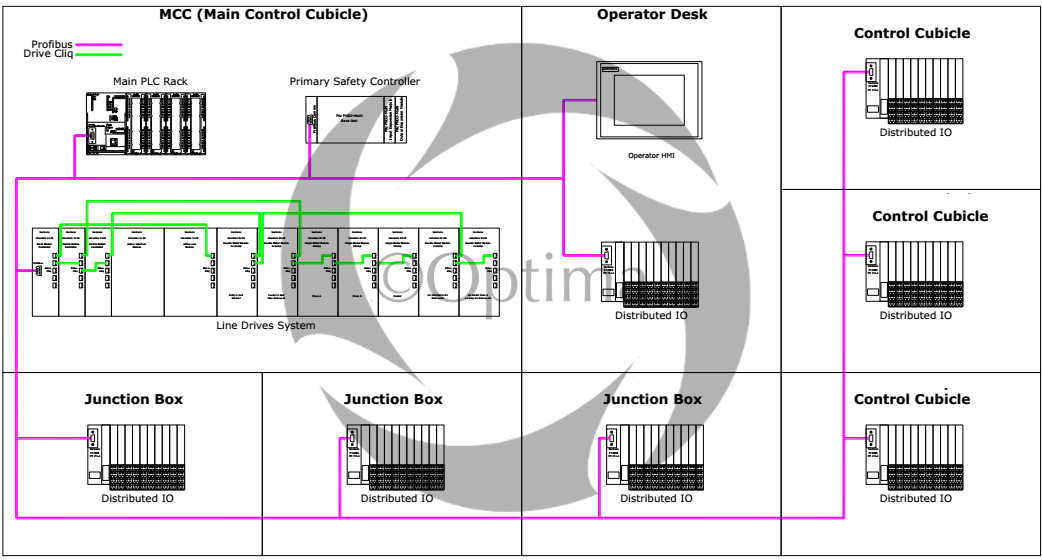 In this project, Optima provided a complete new control system for a Metal Decorating Press. In order to print the colours correctly aligned, all axes must be fully synchronised. Optima chose to use Sinamics S120 Drives and the D425 motion controller to achieve the required accuracy.
The control system was a completely integrated package from Siemens with use of remote IO stations to minimise machine wiring time.
This video was taken during final commissioning of the machine.
The project was managed from the initial site survey, through specification, design and finally commissioning on-site by Optima.
Initial advice was offered to the customer to cover aspects such as
O

perational and process risk assessment

Fixed guarding integrity and guarding access points

Hazardous areas that require EEx rated equipment
This allowed to to design the system to accommodate machinery safety and environmental operating conditions in addition to the major drive control aspects.
The machine software was custom-developed for the application to encompass:
Main machine PLC sequences
Operator Visualisation (HMI)

Motion Control Equipment

functionality

Safety Controller Programming/Configuration
All built equipment from Optima was tested for both build quality and correct functionality before the control enclosures were boxed and braced ready for shipping to site via sea freight.
Commissioning of the supplied control equipment and software was completed with the assistance of the end users engineering and operational personnel. This is important as it allows a natural 'hand-over' of equipment to the end user so they become comfortable with owning the new control system.
During this phase machine process functionality and machine operational safety was tested using the following documents supplied as part of the project such as:

Optima p

roject design specification

Circuit diagrams

Commissioning software test plan

Software specifications and sequence diagrams
Please feel free to speak to us and find out how we can help to upgrade your printing machines to the latest state-of-the-art automation hardware and give you total ownership of the eventual control system supplied.